Newsletter - September 2016
Welcome!
What could be more fitting in September than featuring Istex - Iceland, the makers of the famous Lopi yarns, as the Publisher of the Month? Learn about the history of the brand and find out why "without sheep, Iceland would have been uninhabitable."

In From the Prime Minister's Desk, Julia Grunau shares her conversations with the people at the heart of Berroco.

In Designing for Larger Sizes, we respond to a Patternfish customer who objects to thin models wearing designs, and Deb Gemmell shares her invaluable insights into knitting for larger sizes.

Yarn Substitution, part 2 of last month's Discontinued Yarns article, offers a solution to the problem.

As always, let us know what you think of this issue. Email me, Gayle Clow, at newsletter.editor@patternfish.com and send any other questions about Patternfish to Phil at support@patternfish.com.
Editor's Choices
Patterns in chunky weight yarn receive mixed responses - delight in the the gauge (3 1/2 stitches per inch in this case) - but concern it may look too bulky. This tunic has the advantages of a body-skimming fit falling from the shoulders, attention-getting collar at the neckline, and diagonal pockets that draw the eye vertically. It's knit in a cashmere blend, but a less dear yarn would work well, too.

This capelet in Noro Silk Garden yarn is a beautiful and appropriate garment to wear walking in the woods this Fall. The design features steeked panels - the curved ones on each side of the centre. They are knit in one piece to ensure that the colours are continuous, and then the piece is cut apart and joined to the centre panel. While this is a terrific pattern to learn steeking on a "smaller than a sweater" scale; if you prefer randomness, the pieces can be knit separately.

I love the contrast between the fitted silhouette and the pretty, random, variegated yarn - a combination of strict and vulnerable in one garment. This, of course can be knitted in a solid colour for pure, unadulterated strictness. The waist is pulled a bit in with linen stitch - a clever and unusual use of that technique.

The more I knit, the more unusual hems, collars, and cuffs attract me. It's a bit surprising that this sweater was not designed this year, but in 2007. The body of the piece is traditional to its core, but the hem, collar, and cuffs take a distinct turn to pretty with the enriching cables.

Years ago I attended a baby shower where a wee sweater, something like this one, was unwrapped by an astonished new mom-to-be. The guests, me included, were astonished, too, and I vowed to make one. This pattern is knit in the round so you always see the right side of the cables.

Double spined shawl patterns are virtually guaranteed to not slip off your shoulders, so that technique always appeals to me. Doubled spined means two spines from the neckline outwards; not a single spine down the middle. This one appeals, too, because you can use one, two, or three colours, and the lace work is easy. Plus I love the colours Designer Danielle Comeau has chosen.
| | | |
| --- | --- | --- |
| | Here are two sweaters from designer Jo Sharp that are easy to make and live in this fall and winter. The cowl neck, trim fit, and 3/4 sleeves make the Cowl Sweater a good weekend choice, while the Classic Tweed is just a bit more complex to knit and a bit more serious looking. Both would suit special DK weight yarns in your favourite colours for pleasurable knitting. | |
From the Prime Minister's Desk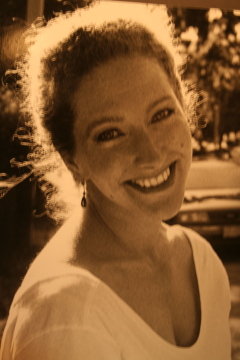 In the 20 years I've been in this business, I've never seen a more symbiotic relationship between design and the yarns on offer than at Berroco. You can only marvel at it, and of course ask: How did this happen? How does it continue?
At the TNNA conference in Washington, D.C. On June 11, 12, and 13, key Berroco people took the time to answer my questions.
For me, the most telling thing in what follows is Warren's statement that "We're a design company that happens to sell yarn." Take a look at the garments here-- some of them from the treasured Norah Gaughan Volume 1 book, now available at last as individual PDF pattern downloads-- then read the full story.
A simple (well, simpler) example of Gaughan's work in a nutshell. In fact, this is almost literally a shell, showing Gaughan's fascination with nature. Worked in pieces, then sewn together.

For the more fashion-forward, this is a stunning piece that's nevertheless not hard to knit. Breathtaking, yet utterly, confidently, calm.

Classy, contemporary, easy to wear with a beautiful flare over the hips: Amy Christoffers gives you the cardigan to see you through every season.

A flattering standout. And as far as technique goes, if you think you can knit this, you almost certainly can. And you'll be rewarded with a unique piece that other knitters will gasp at.
---
Berroco President Warren Wheelcock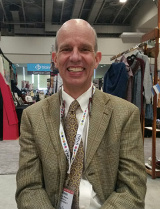 "My father started Berroco in the mid-70's. In the beginning, we were a weaving yarn supplier-- a totally different market. And then we worked with a consultant who used to work for Bernat yarns who helped us point the ship to adding yarn shops (to expand our market into knitting). So: number one, we had to put yarn in 50g pull skeins, and two, you need patterns. Those were our marching orders.
"The yarns that we first showed were actually yarns that were made by a fabric mill to make fancy fabrics; some were imported from Holland. It was a way to sell the excess inventory. We had the Dutch company develop many more yarns for handknitting. It was more yarn-driven, less pattern-driven, compared to today's world. We were standing next to basic, basic companies-- it was all about afghan yarn. We had these crazy bouclés, brushed yarns (like Nubs and Slubs), accent yarns, what we call 'fancies' now.
"Before we had a design director, I would hire freelance designers and I would pick the designs myself." Warren adds with smiling self-deprecation: "A stupid, stupid thing to do as a business major." But the thing in business is not to never make mistakes, because then nothing gets done; the thing is to catch them quickly. Which Warren did. Enter Margery Winter as Creative Director (see Margery's own story below).
"Margery's design abilities were completely in sync with-- even ahead of-- the design community," says Warren with admiration. "She pushed the envelope. She loved fancies." Winter stayed for 12 years, joined in the late 90s by Norah Gaughan "as a counterbalance to Margery's exuberance," smiles Warren. "Norah contributed the classic, more technical, geometric design sensibility. They were a good team-- good buddies, actually." For her part, Norah says simply: "It was a great place to work."
After the "scarf boom" (2003 – 2005) and what Warren calls an "oversaturation" of fancies in the market, "we knew that we had to get into more 'workhorse' yarns, but with a difference-- Ultra Alpaca, say." In other words, smooth yarns composed of superb fibres. These now makes up by far the majority of the Berroco line. ("Some of them are still my favourites," adds Norah, "like the Ultra Alpaca family of yarns. It's fun to see the new yarns they are choosing now.")
---
Amy Christoffers and Alison Green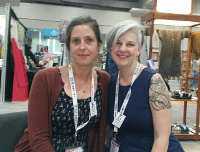 Amy Christoffers and Alison Green
Amy Christoffers has been the company's Design Director for the past two and a half years. "When Warren and (his French wife) Caroline choose a yarn, it's going to be a very good quality of yarn," she says. "It's a yarn that, when a designer works with it, they understand it. As a designer, I want knitters to have particular and achievable results."
While acknowledging Gaughan's "groundbreaking" design contribution before her, Amy says: "What I try to bring to Berroco is a simple, clean, timeless aesthetic. My goal is to produce clothes that people will wear. Shawls, for example. There's still a lot of energy in a shawl."
But wait! "What people want to knit and what they want to wear isn't always the same thing," laughs Alison Green, Design Department Coordinator. "There are 'process' yarns and 'project' yarns. I think that Gingko, our new silk/wool blend, is a process yarn-- people want to keep running it through their fingers. (Whereas) Macro is a fun quick giant yarn, instant gratification; you can start a project in it now and wear it later tonight."
Both Amy and Alison stress that they love being part of a design team. "We have the coordination and resources to make things happen," says Amy. "You don't get that as an individual alone." She adds: "When I get to see someone wearing something I designed-- nothing makes me happier." A close second, though, is when "the books come in from the printer" and she gets to leaf through them for the first time.
So this is how Berroco has evolved over the decades. Observes Warren: "Design has turned the tables upside down from the early 80's when yarn was first, design second." Now, he concludes: "We're a design company that happens to sell yarn."
---
Margery Winter in her own words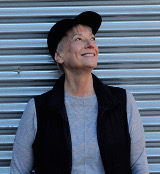 During my career in the handknitting yarn industry I worked in publishing, designing and yarn development.
I came to Berroco in 1997 as a freelance designer and photo stylist for their pattern collection. Berroco was very small at the time and I was offered the position of Creative Director. We worked in an old mill in Uxbridge, MA. My first Berroco office was completely underground behind a spooky dark staircase. Later on Warren built an office with lots of natural light and plenty of workspace. When I started working at Berroco there were very few employees. The art director was freelance and most of the designing was done by freelancers.
The company's bread and butter yarns were Chinchilla (a rayon chenille made and dyed in the USA), Mohair Classic (a brushed mohair from England) and Glace (a rayon woven tape ribbon made and dyed in USA). The finished dyed yarns were delivered on cones and several employees would wind twist hanks and balls on ancient machines. Because these three yarns were color matched I was inspired to design combining 2 or 3 yarns in a garment or throw. These throws were very popular in the early years.
During my tenure at Berroco I worked with Warren and Caroline to develop new yarns. I introduced them to an export agent in Florence and we began to source a portion of the product from the Prato area. Often these yarns were trendy fashion novelty yarns that we developed in a limited palette based on proven color popularity. Past history of sales always seemed to dictate new development. During these years, the high novelties became popular and big needle scarves for beginner knitters was a huge trend. My job was to be the resident outside of the box "visionary" and to argue my case for the new and untested. I loved fantasy yarns. They speak to my creativity. These were good years in the industry. The yarn shop was an oasis for the knitter. Then came web shopping, big box yarn departments were growing and the small shops suffered. As expected, the high novelty fashion yarn trend came to an end and so I was happy to help develop a full line of classic construction yarns with a color palettes that grew as their popularity grew. Some of my favorites were Sensuwool, Metallic FX, Suede, Ultra Alpaca, Peruvia and finally in the later years, Comfort. I left Berroco in 2008 handing over the creative "torch" to my friend Norah Gaughan.
My Berroco years were some of my most fulfilling. I enjoyed working for Warren and Caroline. They're really good people. But, craving change, I was eager to move on to my next challenge.
Today I am an artist and I call all the shots. I am currently showing my textile constructions at ArtProv in Providence RI.
Publisher of the Month: Istex - Iceland

What does Lopi mean to you? It is well known as the name of a yarn that has been a knitting staple for decades. But who among us, who is not Icelandic, knows anything of the company behind the yarn name? To find out we contacted Hulda Hákonardóttir, Marketing Manager at Istex-Iceland. She shared the storied history of the company recognized worldwide by the name Lopi.

When the name Lopi is mentioned, most knitters picture a bulky knit sweater rich with characteristic stranded colour work, like these favourites on Patternfish: Riddari, Yoke Sweater with Pockets, Mittens, and Hat, and Sweater with Yoke. Although the results are impressive, all are rated Easy, use only two colours per row, and are knitted in the round with no sewing.

An intriguing statement from the Istex-Iceland website, "Without sheep, Iceland would have been uninhabitable," provides a window to view the history of the wool industry.

Sheep brought to Iceland from Norway 1100 years ago fed and clothed the nation for over 1000 years. Strict regulations and isolation have allowed the breed to remain pure. The fleece of the Icelandic sheep has two hair types: short, soft ones (thel) lying next to the skin to keep them warm, and longer ones (tog) growing out of the fleece to protect them from rain, wind and dirt. The wool spun into yarn maintains these features of warmth, durabity, and water resistance. The breed is strong and has evolved throughout the decades to survive the Icelandic weather conditions.

The Icelandic Wool Industry began in 1896 under the name Álafoss and thrived for almost 100 years until the popularity and ubiquitousness of synthetic fibres dealt it a blow and the company went into receivership.

A few employees and 1800 farmers bought the company from the bank and began again under the name Icelandic Textiles, aka Istex. Persistent people, much like the sheep.

Here's more from Hulda:

How did the Icelandic sweater design come to be? The traditional Icelandic Lopi Sweater has only been around since the late 1960's. No one knows for sure what the origin is but speculations are that the pattern is adopted from the Greenland National costume and/or Bohus sweaters.

What are the most popular designs? Many of the old traditional sweaters have been popular since they were published in the 80's. In the last 10-15 years a lot of Vedis Jonsdottir's designs have been extremely popular, like the traditional sweater, Riddari, the more contemporary cardigan, Endurreisn, and the coat, Skjaldmey by Bergros Kjartansdottir.

(Editor's Note - Hulda Hákonardóttirois is not only Istex-Iceland's Marketing Manager, she has impressive designing skills, too, demonstrated with Jon, Sjon, and Solkross.)

Would you give us some details about the yarns that Istex-Iceland makes? Istex buys wool directly from farmers and after washing, the second class wool is sent to wool markets in Europe and the first class wool is sent to the Istex-Iceland spinning factory.

Istex produces 5 types of yarn from the Icelandic Wool:

The original one is Plötulopi, an unspun yarn. It's very fragile, breaks easily but is very easy to felt together again.

In 1967 Álfoss started production of Álafosslopi, bulky, 100 g (3.5 oz.) approx. 100 m. (109 yd.). It is very popular, specially in export. Knits up fast.

In the following years, three more yarns were introduced: Bulkylopi super bulky weight yarn, 100 g/66 yd; Léttlopi worsted weight yarn, 50 g/109 yd; and Einband lace weight yarn, 50g/273 yd. Léttlopi is a best seller and Einband is growing strong.

Each yarn type has over 40 shades, some solid but most of them in unique heathered shades.

Don't let any long-held ideas about what Icelandic sweaters look like deter you from exploring the wide variety of designs for girls, boys, women and men. There are pullovers and cardigans, dresses and coats, socks and hats, and even a crocheted blanket.

These are the most popular Istex-Iceland designs with Patternfish customers.

Find all of Istex - Iceland's wide variety of designs here.
© Copyright 2016 Patternfish Inc. All rights reserved. Feel free to share this, in its entirety, with others. To subscribe, create an account at
Patternfish
.