Newsletter - November 2012
Welcome!
When asked to choose, knitters say they knit for charity, for themselves, or for others. Some enjoy the process of creating; others knit for the end product. At this time of year, though, most of us knit and crochet gifts. The best ones are those that suit and surprise the recipient, while having given pleasure to the maker. Process and product intersect.
This Patternfish newsletter is devoted to gift choices from all of us here at Patternfish and friends. We always find it interesting to see the choices of those that neither knit nor crochet and we thought you would,too.
See also news about the "People who bought this, also bought..." now appearing on pattern pages.
Prime Minister's Choices
"Gifts!" said Gayle. And since she runs the Newsletter Show, I obey happily.
To me, they should be quick, unfussy, stylish but enduring-- and if they use comparatively small amounts of yarn and/or don't depend on exact fit, so much the better. Below are some admirable candidates.
This is one of our most popular patterns for little girls, period. The colours are used brilliantly (hail, French design sense), and the stitching itself extremely easy. Fantastically chic, quick, and very wearable. You'll have a blast trying out how to combine the textures, colours, and stitchwork.

This just knocks us out. It's so unexpected and logical and charming and effective, and obviously great for playing with colour. Great for beginners, too, as felting tends to even out and disguise any tension glitches or outright mistakes. And it's not just for lunches-- what about putting your knitting or crochet notions in it for your project bag? Gentle and secure for jewellery, too-- packs beautifully!

These slippers are very fast to make and whimsically pretty. We appreciate the slightly tighter gauge than usual with a worsted weight yarn (adds durability)-- and the variety of techniques (wrapped short rows, I-cord) on a small scale. The only sewing is attaching the I-cords to the sides: there are no 'seams' per se.

And an absolutely great basic, basic, basic sweater for kids. Drop shoulders. Chunky gauge. Dead easy. Shows off any yarn or colourway perfectly, and the styling is so calm and simple that no Future Child (i.e., those within this age range today) could object to it. Make the sleeves (and maybe neckline?) in a contrasting colour if the child supports a particular team of some kind, and you've got a super fan sweater in their colours, too.

Sure, there's a lot of beautiful stitching here-- but it's just done in one 20" strip, and the intense cabling fades to rich gentle fast ribbing as you near the end. So there's asymmetry and artistry and interest, and of course it's extremely becoming to any woman, and adds elegance to any style of coat. A super project for travelling (if you take short trips).

The ultimate hipster sweater then and now. Men or women. Old or young. It just works, and it's a fast sweater to knit. What makes it, of course, is the raglan sleeve seams done on the public side-- that is the only design element needed, though we like the turtleneck a lot. If you don't, just stop after a few rounds and you've got a crewneck. Really easy and works in any colourway or style of bulky yarn, though we adore the Bulky Lopi. Body (to the armholes), sleeves (ditto), and neck are worked in the round.

Everyone has that ONE perfect ball of Kureyon or Silk Garden or similar, right? What to do? Make these beauties in a classic Spanish lace stitch with 100m/109 yards of yarn. Most everyone can use lovely fingerless mitts, and can follow a chart. One ball if you don't care about being matchy-matchy; two balls if you do (start each mitt from the same colour repeat place).

For infants and children, felted slippers from Feltmistress Bev Galeskas-- but crocheted instead of knitted, so they're extra-thick and cushy. Think of the possibilities for using up oddments and creating something so dear and sweet and warming at the same time. If the decorative ties don't appeal to you, consider sewing a big playful button on the instep instead, or embroidering, or needle-felting instead.

There are a couple of huge advantages here. First, they're knit flat, sideways. Second, they're unusually well-suited to men-- they're strong and bold without being at all fancy, and therefore interesting to knit instead of boring. You know guys who work at keyboards (computer or electronic music) a lot, sometimes in cold weather? Sure you do. You need this pattern because they need these mitts.

Maybe you don't live in one of those stark Scandinavian-style settings, but wish you did. Or maybe you do, and revel in it. Regardless-- these crocheted bowls belong anywhere. They're endlessly useful and beautiful, alone or given in sets. For jewellery or fruit or batteries or anything you can think up. You will want to create clutter so that you can organize it in these, they look so good.

You just can't have enough of these crocheted market bags, nor can any of your friends or relatives. A superb hostess gift, or thank-you present, or anything. Why buy those paperish bags from the supermarket to reuse (they eventually fall apart), when you can have dozens of these in different colours ready for you or your mates to deploy at all times? And the Euroflax linen thrives on machine washing and drying.

To crown any gift collection: Laura Bryant's bestselling Magical Moebius Hoodinis. Go mad with sumptuous fibre and colour; these will be framing your face, where they belong, and seeing very little abrasion or wear. Sizing and gauge not critical at all. These hoodinis make every woman the star of her own life story. For yourself, for your best friends, an extravagant-looking gift that's extremely easy to knit.
Chancellor Shannon's Choice

Shannon suggests a great way to introduce the kids and grandkids to crochet and pattern reading. This pattern, some left over yarn, crochet hooks and hot chocolate will make a fun and simple project for everyone in the family. You and the kids will all look great and stay warm walking the dog afterwards.

Minister of Technology Phil's Choice

Phil would like someone to knit him this vest, a slouchy number, perfect for warming up after one of his long walks.
Editor's Choices
Here are my choices and those of invited guest contributors.
A Young Couple's Choices
My friends, Estelle and Imran, are recently married, young, hip, urban, delightful, and about to launch a business to do with organic products (Can't say more! Still secret!). I asked them to pick gifts, for them and from them. Estelle tells us about their choices.
"Imran is always cold, especially his feet, even in summer. Recently his house slippers fell apart and, trying to save money (the business, you know), I went into a million of those little shops that sell a bit of everything, cheap. All I could find were flip flops and outdoor shoes. I probably should have gone straight to a department store but I thought house slippers would be an easy find. Boy was I wrong! These slippers are adorable, they're not too feminine like a lot of the slippers he saw on the site, and they look really comfy and warm."

"This shawl is a gift idea for my sister. She's going on vacation soon and doesn`t have anything cute to wear over her skimpy clothes and bikini when it gets cooler at night. I love the delicate and graceful look of this shawl and it suits Megan. And, it's perfect for her sexy beach look because it's small and doesn't cover up much, breezy, and see through. I'd want to make it in white or another really light colour, with really fine organic yarn."

"I have a winter coat that's loose around the neck and it's always letting in the cold air. This would be good for stuffing up that space to prevent the draft! I like that it's more compact than a scarf or shawl so I don't have to layer it uncomfortably inside my coat and on the outside my style looks clean and scarf-less (nothing against scarves, I love them! Just also like the no-scarf look). I'd like to make it in a super thick and warm yarn."

"My good friend just had her second baby girl and these would be such a lovely gift for her! She loves all things DIY, and she'd totally appreciate the adorable little details of these booties. I wonder if those little ties help keep the booties on when babies yank on their feet? That'd be a nice bonus. I'd want to make these using a very soft yarn in probably a dozen different colours!"
Savanna and Sofia's Choices
I recently met Savanna and Sofia, charming seven year old identical twins, and thought it would be great fun to see what they would choose from Patternfish. It was. Here's what they picked.
Colour is very important. Sofia's favourite is blue and both of them liked the bands of blue and the big centre cable on the pullover and vest. They both liked fingerless gloves with lacy stitching and Kollage's popular Baby Tabitha.
The girls have identical twin sisters (what are the chances of that?) with curly blond hair and blue eyes. Sofia and Savanna call them "the babies" and Savanna, in particular, wanted to choose patterns for her outgoing and lively sisters. And for their mom, they picked a hat.
Just for fun, they picked a pin cushion in the shape of a Christmas pudding and a twirly skirt to dance in. Here, too, for fun, are a couple of surprise patterns from me. There's Feathers (four birds, one per twin), and for their mom, a Beaded Stress Ball, although I'm not at all sure she needs it. She is calm. Maybe it's for their dad instead.
My conclusions? Seven year old girls are a treasure. They are very clear on what they like and are sophisticated and fearless in their choices.
It was a pleasure to spend time with Sofia and Savanna. I learned a lot from them and I'm grateful. The evening was a gift.
The Editor's Favourite Gifts to Give
Veronik Avery's Chevron Neck Warmer is the very first pattern I bought from Patternfish. I made it for myself and loved it and later made lots of them. I use wonderfully soft luxury yarns and beautiful buttons. They are always appreciated. The design works for men and women and the buttons can be moved to personalize the size to the user's specifications.

Twig is another of my favourites for gift-giving. The first one I made was for Estelle (see above) from an ultra soft natural grey alpaca yarn that she brought me from Peru. I added a sprinkling of really subtle beads here and there. Estelle tied it around her ponytail and it looked fantastic.
Gifts the Editor Would Choose to Make for Herself
If I had time, I'd make one of these lacy sweaters from Bergere de France or Lavatera to wear during the Christmas season. Each is pretty, feminine, and festive. Quite different from my usual attire.
For when I'm doing the final Christmas dinner prep, one of these T-shirts wouldn't be too warm but would still have a little flair.I really like the shoulders on the Alfa and the rib-hugging waist cables on the Wessenden Woollies.
Keep Those Ears Warm
I love headbands and have made some just by casting on and knitting, but to get one that really fits, neither slips down nor makes my eyes bug out, a pattern works best. I'd pick one of Barbara Pott's headbands with the oak leaf for Fall wear, or for the truly cold-eared, Cheryl Beckerich's doubled headband. Michele Porter, a Toronto native but no fan of hats despite cold winters, has designed an elegant braided headband in cashmere.
Education and Warmth
| | | |
| --- | --- | --- |
| | | Did you ever think a scarf could have educational value? A moebius scarf will fascinate any child or teenager with a scientific bent. Include a card with the question: "How many edges does this scarf have?" |
A Gift for a Knit or Crochet Beginner– Each One Teach One
The vibrancy of the world of fibre arts can lead us to think that no one needs to be taught the skills that will ensure a rich heritage is not lost. Such a conclusion would be a mistake. We adepts still need to make gifts of patterns, yarn, needles or hooks, and our phone numbers - everything that can help novice needleworkers experience the joy and sense of accomplishment that we know.
The sumptuous and easy shawl would capture the attention of a new knitter, teach some new techniques, and result in the comment: "You made that?" from amazed friends. Or for someone who happens to have a standard poodle (that would be me) and wants to learn intarsia, the pullover would be a good choice. Or do you know a new knitter who loves yoga and wants to learn to crochet?
For Christmas Decor
If you haven't been introduced to Knitting at KNoon's amazing Snobuddy family, here it is. Add Daniel Yuhas's O Christmas Trees to give the family some woods to wobble through.
Staying with the family theme are Christmas Stockings from Knitting Pure and Simple - one for each and every family member.
Holiday Wear from the Sock Knitter
Not everyone will wear a themed sweater, but we all know someone who would be delighted to wear a pair of Christmas themed Red Bird Knits socks. For a walk in the snow, bulkier ones from the Socks Five Ways wardrobe would be dramatic in red or green, or choose to make house socks for a day by the fire.
For Some, Only Cash or a Gift Card Will Do
It's the sad truth, but we can still make it our own special gift with these quick to crochet wrappers, the brainwave of Mary Beth Temple; C2's nifty little beaded pouches; or Origami Bags from Lucy Neatby. Each is a terrific project for a beginner crocheter, beader, or knitter. Learn, make, give.
Lots of Women Want Jewelry
But not all the gift givers can afford it. Val Love, with her NYC sensibility, offers necklaces in precious skeins of silk; Sivia Harding's jewelry is sculpted with beads and yarn; Lucy Neatby's earring pattern includes complete instructions on how to knit with wire; Angela Juergens's necklace and bracelet are simply crocheted loops.
For My Sister-In-Law With the Cold Hands
My sister-in-law lives in Vancouver and loves her gardening/walking/reading life amidst the mountains. She has Renauld's Syndrome which causes cold hands, so I made her a pair of cashmere fingerless gloves a few years ago. She loves them; she reads in bed in comfort, and the luxury yarn has stood up exceptionally well. I'll choose one of these close fitting designs to make her another pair.
For the Man in My Life
| | | |
| --- | --- | --- |
| | | It's been several years since I knit my husband a sweater. The last one was such a success I thought I could rest on my laurels for a little longer, but apparently it is time. He loves anything cabled or Irish. I'm going to suggest one of these. The Reynolds is two choices in one pattern, both worthy. The Bergere de France cabling is Gallic and gorgeous although it's hard to tell in this photo; you have to look closely. |
If You are a Weaver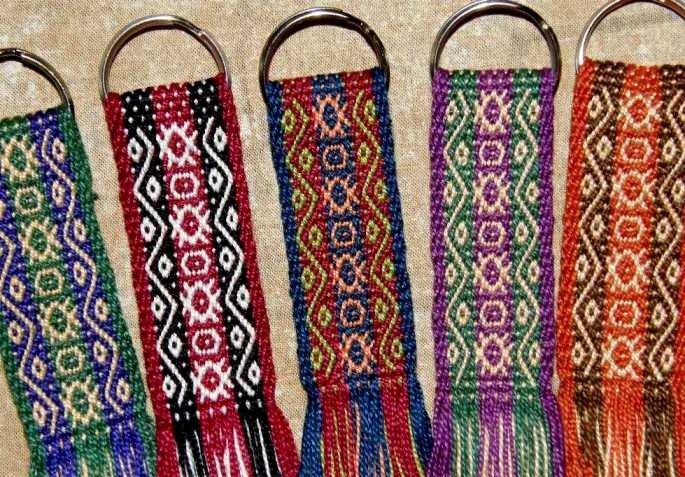 These key fobs in Andean pebble weave patterns would make terrific gifts. Laverne Waddington suggests: "They are a nice way to play with color and combine several beginner motifs. The overall project is intermediate level. The design is a meandering river with sun and moon, not my original designs, classic Andean ones, but this particular way of combining them is my idea." This pattern is also available in German, French, and Italian.
My Gift to Those in Warm Climes
Several people who live in Southern California and Florida have asked that we show some patterns for balmy southern winters and not show just the warm and the woolly in the Fall. These patterns are my gift to them. Other requests: not sleeveless, adequate coverage for the older than teenage crowd, suitable for work, and not shawls. Each of these patterns would be wonderful in a breathable yarn like linen, silk, or cotton. Adaptations like body or sleeve lengthening may be wanted by some. Not difficult changes. I hope they like them.
© Copyright 2012 Patternfish Inc. All rights reserved. Feel free to share this, in its entirety, with others. To subscribe, create an account at
Patternfish
.